Why Sand and Refinish?
---
BRING YOUR FLOORS BACK TO LIFE!
When years of stains, dents and scratches have left your
floors dull and damaged,
hardwood floor refinishing may be the answer.
The team at Floors Etc. can sand your floors,
carefully refinishing them to perfection.
Refinishing can remedy everything from
discoloration and moisture to scratches and dents.
---

Give your Hardwood Floors a face-lift
with our custom Refinishing Services.
---
Beyond simply removing damaged areas, hardwood floor refinishing gives
you the opportunity to revamp the rooms in your home.
During the process, our experts can bring new life to your floors by
breathing new life into your current stain color or by changing it completely.
The beautiful result will add value to your home and require little maintenance!
---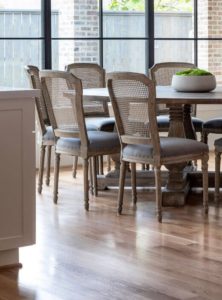 ---
"If your floors can be restored to their original beauty
without replacing them,
Floors Etc. is your very best bet on making that happen."
---
Sanding and refinishing your wood floors will add value and beauty to your home (or place of business). Floors Etc. wants you to focus on that added value and beauty because, as with any home / capital improvement, this process also comes with some disruption and inconvenience. We will do our best to minimize your disruption by using our vast experience and expertise, the latest equipment and the most environmentally safe materials to complete our work in your personal space. However, we do ask that you please be aware of the following factors:
There will be noise, dust and some vapors during the sanding and finishing process.

Even though we will seal off the work area from other rooms, dust from the sanding process could infiltrate to other areas of the house.

Please keep pets and children away from work areas – the machines and materials we use can be very dangerous to tiny people and furry friends.

A typical oil-base finish job (approximately 1,000 sq. ft.) takes 3-4 days.

You may

not

walk on the floors during this process.
PLEASE keep in mind, although finishes may appear dry sooner, they are not completely cured and will not support replacement of rugs for 14 days after the job is completed.
You can walk on floor after 48 hours (8-12 hours in socks).

You can replace furniture after 7-10 days (felt pads recommended).

Please see more details about

Dry Time v Cure Time

and our recommended guidelines further at the bottom of this page

When the work is completed:

You may need (or want) to touch-up or repaint your baseboards.

NOTE: This is not covered in the cost of our Proposal (see exclusions).

Also, be prepared to remove the fine dust that may have accumulated, despite our best efforts to contain it.

Our normal work hours (on jobsite) are 8:30AM to 5PM
---
You can download a PDF of these guidelines below – they can also be found at:


Pre-Sanding Requirements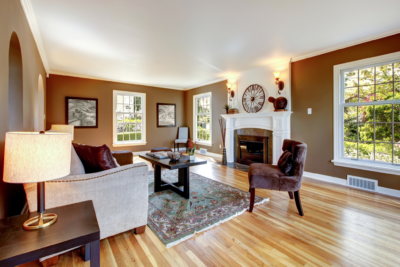 All other trades should have completed their work, and no other floor traffic should be allowed during the sanding and finishing process.

The building should be completely closed in, with outside windows, and doors in place.

Air conditioning, heating and ventilation systems should be operating at least 7-10 days before Floors Etc. begins working.

The temperature and relative humidity should be at @ normal living conditions.

Furniture, appliances, and old floor coverings should be removed.
In addition to ensuring that you get a beautiful floor, we also promise to treat your home like it was ours – we take extra care to protect everything – this question comes up most often during our sand and finish process.
We always:
Hang plastic to adjacent areas, all baseboards, risers, skirt boards &/or pickets are protected with blue tape, return air is covered and AC is turned off.

Use a dust containment system for the sanding process of wood floors. This process:

Keeps your home much cleaner than alternative methods.

Greatly reduces the dust and mess traditionally associated with the process of sanding wood floors.

Significantly reduces air-borne dust, but we do not call it "dust free" since it is impossible to remove all dust.

Remove and properly dispose of all trash after completing the project

NOTE: This applies to ALL jobs.
Dry Time is when you a finish has dried and cured enough so that you can walk on it so that it will not sustain any damage from carefully walking on it – this is generally considerably less than cure time, and we promise we'll tell you when it is safe to walk on your new flooring surface once we've completed our work.
Cure Time is the time it takes for all the solvents, etc. to evaporate from the finish, for the fumes and smell to stop being released and for it to fully harden, which depends on the type of finish as well as temperature, airflow and humidity levels.
---
Below are Floors Etc.'s recommended guidelines according to finish type:
Wax Finish / Hardwax Oils

---
Socks: same day
Shoes: next day
Pets: 2 days
Furniture: 1 to 2 days
Rugs: 5 days
Oil-Based Polyurethane

---
Socks: 8-12 hours

Shoes: 48 hours

Pets: 10 days

Furniture: 7 to 10 days

Rugs: 2 weeks
Water-Based Polyurethane

---
Socks: 3-4 hours

Shoes: 24 hours

Pets: 1 week

Furniture: 5 to 7 days

Rugs: 1 week