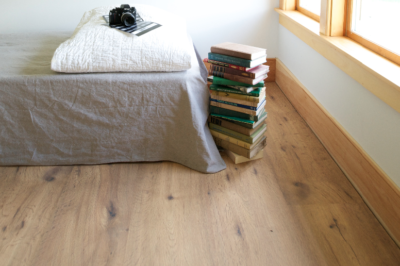 The No-No's
Don't wet mop or steam mop a cork floor.

Water / moisture can become trapped in the boards which will, over time, swell and warp.

Don't allow any liquid to stand on cork floors.

Water or moisture in any form can seriously damage the floor.

Don't use mats with rubber or other non-porous backings

These can trap moisture and harm the finish.

Don't slide heavy furniture or appliances across room.

Pick these pieces up to move – even if only a few feet.

Don't walk on your hardwood floors in high heels, cleats, or sports shoes

If you must walk in high heels, make sure they are in good repair

High heels concentrate pressure in a small area and may dent the floor.

---
Fact:
The amount of pressure exerted by the pointed tip of an average woman's high heel is equal to that of the entire foot of an elephant.
---
Don't let your pet's claws go untrimmed.

Don't use any of the following products as they can dull, discolor, or damage your cork floor's surface.

Oil Soap

Abrasive Soaps

Bleach

Ammonia-Based Products

Wax-Based Products

Solvent-Based Products

Oil-Based Products

Mineral Spirits

Acrylic Finishes

Detergents

Polishes

Acidic Materials (such as vinegar)
Vacuum, sweep, or dry mop regularly – followed by a Cork / Hardwood safe floor cleaner.

It's a good idea to keep on hand a wood cleaning kit.

Floors Etc. will be happy to recommend one that best suits your needs.

Clean up spills quickly – Cork is very porous!

Place interior and exterior mats at entrances to trap sand, grit, and other substances.

A grain of sand has dozens of sharp edges and can create scratches if tracked across the floor. Be careful of other debris such as small rocks and pebbles being drug across the floor.

Use area rugs in front of kitchen sinks and in high traffic areas.

Rugs must be made of a breathable material to prevent moisture entrapment.

We recommend using a breathable rug underlay; mesh or grid patterns are best.

Do not use rugs with solid rubber or vinyl backings as this may damage the finish.

Use protective pads or caps, such as Bona® Floor Guards , on feet of furniture. Fix rolling furniture with soft rubber casters.

Periodically check the felt tips for wear or buildup of grit/debris and replace as needed.

Understand the issues of weight and sunlight.

Heavy furniture can compress your cork floor and leave noticeable depressions.

Cork has a flexible composition, so divots and dents should disappear as the pressure is taken away.

Cork will tend to discolor and fade when it's exposed to direct sunlight for prolonged periods.

Limit direct sunlight on the floor by using curtains and blinds in areas that are exposed to high UV rays.
---
Floors Etc. Pro Tip


Shift your room layout every few months to lessen the chance of compression damage.
---
Maintain a consistent humidity level throughout the year in all living areas.

Excessive swings in humidity levels will cause Cork floors to swell, shrink, cup, crack and show excessive gaps between boards – all causing potential permanent damage.

Ventilation, humidity, and temperature control is a must even when the home is not occupied.

Flooring will perform best when the interior environment is controlled to stay within a relative humidity range of 35%-65% and a temperature range of 60° to 80° Fahrenheit.
NOTE: Seasonal movement is a normal characteristic of wood flooring and is not considered a defect. It is the owner's responsibility to maintain appropriate conditions via the use of a humidifier and/or de-humidifier and/or air conditioner.
Cork flooring should be given a nice refurbishing every five to seven years using polyurethane, such as Bona® Traffic, a polyurethane satin finish.
General Weekly Cleaning
 1. Vacuum or Sweep
The best method of removing dirt and grit is vacuuming.
If using the Bona® mop to dry mop, remove any loose dirt or grit on the mop afterwards by rinsing with water and wringing out the mop pad.

This should be done prior to cleaning floor.
 2. Clean
Lightly mist a 4′ x 6′ area of your floor or directly mist the cleaning pad on your Bona® mop with manufacturer approved cleaning agent (refer to Warranty and Guidelines) and thoroughly clean the floor with the mop..
Most Cork manufacturers recommend a floor cleaner that is pH neutral, like Bona® Pro Hardwood Floor Cleaner (also recommended for Cork flooring).

Finish one area before moving on to the next.

Ensure there is no moisture or water left over on the floor when you're done.

Your Bona® mop pads are reusable and washable.

Do not use any fabric softeners, dryer sheets or bleach on your Bona® mop pads as these products will diminish the natural cleaning characteristics of the microfiber.

When the mop pad becomes excessively soiled, launder and/or replace with another clean mop pad.

Continued use of excessively soiled pads may cause streaking.
For Spills and Messes
Soak up the liquid right away.

Cork is extremely porous, and liquids can penetrate its surface, causing deep stains that will be very hard, if not impossible, to remove.

Mist the area with cleaner, and wipe with your Bona® mop or a clean, soft cloth.

When to Call Floors Etc.
For the following Cork flooring problems please reach out to Floors Etc.
---
Damage | Pet Stains | Scratches | Water Stains